Last summer Paul Pierce was traded to the Brooklyn Nets after 15 years with the Boston Celtics. During one of the many conversations I had about Pierce at the time, I was asked what I thought the prime of his career had been. Usually, a glance at a career stat sheet is good enough for a rough estimate of a player's "prime". Some guys are late bloomers and his first couple of seasons can be overlooked. Some guys hang around long after their best days are behind them and you can knock off years on the end. With Pierce, it's murkier. His career numbers don't have the peak you might expect from a player who rounds into shape over his first seasons and then tapers off when age starts to overwhelm experience. His numbers are more wave-like, going up and down through his career. His best statistical years happened, mostly, for bad teams and his most successful years didn't come until he was already an NBA veteran whose numbers had begun their decline. I had watched most of his career as a rapt, young Celtic fan and didn't know the answer. The question swirled around in my head all year. Now the season is over and Pierce will face free agency as a 36-year old role player and I still wonder: What was Paul Pierce's prime?
The problem I was having is that Pierce lost almost the first half of his career to being drafted by the wrong team. Despite a high profile, Pierce slipped to 10th in the 1998 draft and was taken by the Boston Celtics. As a Celtic fan I'm thankful this happened but for Pierce's legacy, it probably wasn't a good thing. Pierce joined a Celtics team being coached by NBA-disaster Rick Pitino and led by third year chucker, Antoine Walker. This was a team with a losing culture and no plan for how to turn it around. Walker learned the professional ropes as the star of one of the most blatant tank-jobs in NBA history and would never overcome the bad habits he formed in those first seasons. Under Pitino, Pierce put up big stats and was granted a nickname by Shaquille O'Neal but developed an attitude and some of Walker's undesirable habits.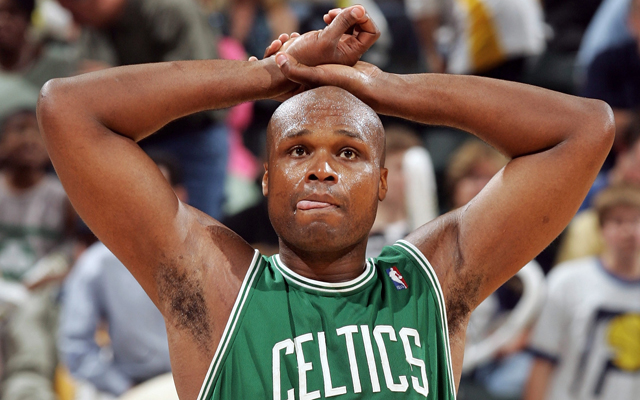 The teams were bad and Pitino fled in the middle of the 2000-01 season. Under new coach Jim O'Brien the Celtics started to find an identity, going 24-24 over the final 48. The following year, Pierce's 4th, O'Brien instilled his formula: defend hard and shoot 3-pointers. Shepherded by Pierce and close friend Tony Battie, the Celtics' defense finished in the top 5 that year. Pierce led the team in Defensive Win Shares and led all rotation players in Defensive Rating (per basketball-reference.com). He made his first All Star team and the Celtics made the Eastern Conference Finals.
A young core making a deep playoff run felt like a great sign for fans but looking back we should've known that a team built around Antoine Walker shooting eight 3-pointers a game couldn't sustain its success. Pierce kept making all star teams but He didn't now how to lead a team. The Celtics slipped more and more each season and Walker was getting exposed as a mediocre player with inflated stats on bad teams. The losing culture couldn't be wiped away in a single season.
In 2003, Danny Ainge was hired to be the Celtics' President of Basketball Operations and traded away both Walker and Battie. O'Brien, unable to work with Ainge, left the team in 2004. Without Walker's scoring and dominant personality, Pierce had to learn how to carry an offense and lead a team all by himself and he wouldn't have his best friend by his side. He would have to reevaluate his approach to the game.
The following year, a new coach would help him do just that when Ainge hired Doc Rivers. Rivers was a different kind of coach than Pierce had ever had. Rivers demanded accountability from his star and a level of leadership Pierce was still struggling to understand. Their first season together was rocky and the two clashed. In a symbolic moment, Pierce was ejected at the end of Game 6 of the 2005 first round series against Indiana. On national TV, Pierce removed his jersey on his way off the court, swinging it in the air as he disappeared down the tunnel. I remember this was the first time I realized Paul Pierce had tattoos. Later, Pierce gave a bizarre, sarcasm-laden post game press conference. It wasn't clear what was happening at the time. Luckily, this just was The Truth having growing pains.


During the offseason, Pierce rededicated himself to basketball. He lost weight and entered the 2005-06 season focused, scoring more points, more efficiently than ever before. When players looked to him for leadership, he had answers. He was putting it all together. He became a player that could fill a stat sheet and lead a team. After 7 years in the NBA, Pierce had figured it out. This was Paul Pierce entering the prime of his career.
Unfortunately, he was leading a team headlined by Wally Szczerbiak and Raef Lafrentz. They won 33 games.
The following season, Pierce missed major time with injury and started feeling the pressure of time. He was tired of losing. Trade rumors ran rampant through Boston and on ESPN. Behind closed doors, Pierce asked for a trade. Since Ainge had come onboard, he had been compiling assets and finally cashed in, bringing in perennial all-stars Ray Allen and Kevin Garnett.
In 2007-08 Pierce finally had teammates that could match his level of competitiveness and skill. Garnett and newly-hired assistant coach/mad genius Tom Thibedeau brought a new level of defensive mania to the team and Pierce jumped aboard. With Garnett and Allen in green, Pierce put together his most complete season as a pro at the age of 30 and the Celtics won a league-best 66 games. When the team needed to stop Kobe Bryant in the Finals, he demanded the job. When they needed to create a shot out of nothing, he was the man. Garnett had been the team's most vocal presence and Allen had been the team's most consistent performer in that Finals but Pierce was still the guy his teammates looked to for leadership on the court. He led the team in regular season scoring, defended opponents' best wing players nightly, and won the Finals MVP. He was on top of the NBA mountain.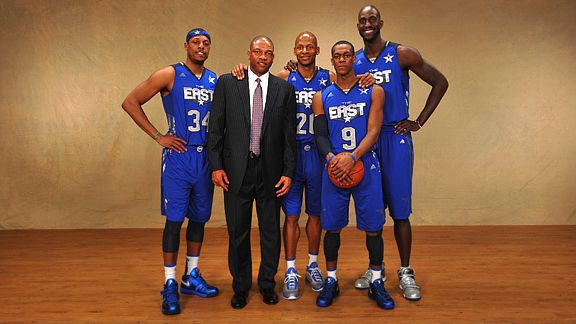 It's fair to say that the 2008-09 regular season didn't have the urgency of the one before it. Pierce put up all star numbers and the Celtics won 62 games but the consistency wasn't quite the same. When Garnett missed the playoffs with an injury, a return to the Finals was out.
By 2009-10, Pierce's age was working against him in more obvious ways. He played less than 35 minutes per game for the first time since his rookie season and missed 11 games, mostly for being old. With Garnett back in the lineup, the Celtics returned to the Finals and came within a quarter of another Championship, but Paul Pierce's prime was over.
Scoring numbers are not always an indicator of how good someone is playing. With Pierce, his mid-career resurgence as a dominant scorer coincided with him overcoming that entrenched culture of losing. He carried himself differently and made his teammates' games a priority equal to his own. From 2005-06 when he put it all together to his Championship win in 2007-08, Pierce was as good as he would ever be. It wasn't a long peak. 206 games over 3 seasons. But It's rarer than we give credit for that anyone ever truly reaches their potential. In my estimation, Pierce accomplished that and in a few years, I'm sure it'll be enough to get into the hall of fame on the first try, not 7 years later.