Easy To Take Shots At; Hard To Understand
I just read the following from JA Adande on ESPN.com:
Even this AI fan is falling for it. Allen Iverson has just shut it down for the season due to a 'back injury'. He's played through sprained ankles, debilitating sickness and broken bones. Its not his back people. He's encountered a strain to a part he just can't cope with: his heart.
I appreciate JA's analysis and perspective but he has this call wrong. There's 3 basic jobs in the NBA. GM's assemble teams for success. Coaches take players and create the best possible team/individual system and shows people how to play in it. Players follow the direction of the coach and execute that system to win games.
When 2 of these 3 institutions do a good job the result is success: two groups will motivate the third. When only one of them do their job an organization becomes disjointed and all three show frustration as it's sucked into the void. View any clippers season (except the one before Livingston got hurt and the Larry Brown year) and you'll see examples.
Is Iverson to blame? Partly, for sure. But JA is wrong when he thinks its only Iverson's issue.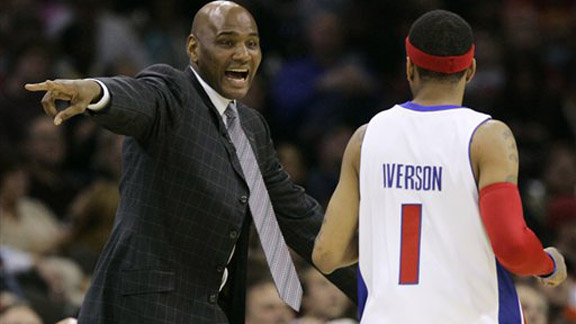 Some Coaches Solve Problems, Some Sulk And Blame Their Players
Dumars brought Iverson into a system that was an obvious bad fit before the ink dried on the dotted line. Michael Curry failed in developing a system he could sell to his top 3 players and the team as a whole. Iverson? I truly believe Iverson has tried to work with the Pistons. His statement is honest: his game is dominating the ball and doing this is how he's most effective. Its not his fault: it's just who he is and he's saying he's not being competitive. Remember: the Pistons chose him… he did not choose the Pistons.
That's Dumars' fault but realistically the Iverson trade was a money dump which makes sense for the future of the team. He has done his job but it will just take a few years to show up in the W column. Iverson would love to do his job but can't and is a little past his prime to win lots of games with his style. These are facts. That leaves us with Curry. Curry really has not done much but try and slot Iverson into different roles of the team he used to coach before the trade happened.
No wonder he's had trouble selling it to the players. How do you really sell a game plan to the players that takes an all-star guard and puts him on the bench so the new guy can try and outperform him in that role? How are the other starters who went to war, won a title and made 7 straight conference finals with Rip at the 2 going to react to that? Badly. Iverson clearly does not fit Rip's role in the starting system anyway. Rip played it at a championship level so how does changing something that's not broken improve your team?
Plan B failed too. Take a player who's entire game is working with the ball in his hands and try and make him fit in as a reserve. How do you sell that to the team or Iverson? An all-star with the ball in his hands who made the finals that way. Now you expect him to excel hitting spot ups off the bench? Iverson feeds off of competition, playing hard and above all else contributing to his team's success. He's a hero player. Its his game.
I say kudos to both Rip and Al for trying both attempts over this season but hand Curry a big boo-urns for sulking that Billups is gone. Both minimally complained and expressed personal frustration that coming off the bench is not helping them help the team. Only Iverson took heat however when he complained that him being on the bench does not help the team and not adjusting. The man no one is talking about though, the coach, has been trying to fit square pegs in a round holes all season long.Instead of creating a maximizing approach for his team's abundant talent Curry he's hanging onto his past team like Britney holds onto her past career. Its to the point now where Iverson is considering retirement openly. Curry gave up on a still prolific and capable player before he got there. In doing so he gave up on a season as well.
Whats needed is a game plan. One built around the pistons on the roster. One that keeps everyone happy. One that has a role for everyone to contribute. Whats needed is some compromise. So why not give Allen Iverson this challenge.You say: "AI, we know you've got trouble playing with our team. We know you need to be the star to be effective. Lets try something no one has ever done with you before."
I guarantee you, I'd bet a year's salary on it… Iverson's ears would perk up at this sentence. Instantly. What he told the press was not "I want to quit basketball" but that he's starting to think basketball is quitting on him. That everything has been tried and he just does not work on winning teams anymore. AI is saying he's not in it for the money.
Throw down this plan on him. Instead of trying to make Iverson change his style create a separate system for him. Build a second unit around his skill sets, then use it to crucify opposing team's benches and starters alike. It would be feared in the league. Say "We don't want to change how you , AI, we want you to change games."
Iverson is absolutely listening now. Iverson is still coming off the bench but because of the packaging rather then insulting his talent its challenging him. Show him clips of the Knicks team that made the finals with Spreewell leading a second charge off the bench that would change up the looks the opponents saw and often blow them away as the defense tried to adjust to the style switch on the fly. Teams were constantly caught with their pants down when Ewing went off the court the tempo changed.
It makes sense. The starters are too good together to change their system. Iverson is too Iverson to be effective playing any other way. Its a way to be himself, be proud of the way he contributes and not distract the team. It absolutely makes the Pistons much tougher to scout and match up with. Using the 'bad boy' unit you can lock down and dig in. Then switch to AI mode and run them off the floor and no team will know when its coming. Check out the line ups.
"Bad Boys"
5 Sheed
4 Dice
3 Prince
2 Rip
1 Stucky
That is what the Pistons are winning with right now. Great starting 5.
"AI Mode"
5 Kwame Brown (who did prove he can play a little in LA in the playoffs)
4 Jason Maxiell (who's also under used)
3 Amir Johnson/Hermann
2 AI/Afflalo/Bynum
1 AI/Afflalo/Bynum
Unit 2 is not going to win 50 or 60 games. But they could win 5-10 minute stretches. No sweat. There is not a leader who plays with more heart then AI. Its right on his sleeve and it WILL get Kwame going. It will get their bench guys going who thus far are severely under-performing.Lots of combinations and possible tweaks exist too. Move Maxiell or Johnson to center and go small. Take prince and put him at the 3. Take any starter and move him to play with the second unit. The main point is that when the second unit is on the floor you play with a different game plan that utilizes Iverson's skills to put points on the board.
Its a match up nightmare. Your team gets ahead in the game D'ing up Detroits systematic offense. Your 2 is fighting Rip off screens. Your 4 or 5 is getting help to contain Sheed's inside/outside game. You're defending the pick and roll and Detroit's other half-court sets well. Then Iverson comes in and your point guard is getting isolated on the wing while the rest of the players are clearing out the strong side to run back in off screens while Iverson creates. Do you really think Daniel Gibson could have handled this in the Pistons last Cavs loss? Nope and I'll prove it.
Curry's ineptitude was shining bright recently in Cleveland. Iverson was finally given some minutes in the fourth. That is after running the offense throuugh Will Bynum created a 7 point deficit in the quarter. 9 plus/minus if you include the Bynum shot that Joe Smith swatted. 11 if you include his missed dunk. 13 if you count his bricked jumper. 14 because he could not stay in front of Mo Williams who hit Bron for an clear path pass on a back door play. The Cavs announcer needed extra dry cleaning to say the least after that.
So at the nine minute mark Iverson was allowed to use the ball. Every time AI pushed, this happened. Drained a pull up. Uncontested jumper in the key. Shot a pass to Maxiell from the 3 point line under the hoop for an easy lay in. Will Bynum missed a point blank lay up in transition. Shot Sheed a pass from under the hoop to the 3 point line for a wide open trey. (missed) Split the defense, drove the lane, easy lay up. Will Bynum threw a pass away then promptly raced down to foul 23 for the and 1. (at least he got a dime!) Drew a foul on Big Z trying to contain AI. AI got blocked. Good D by MO. Stuck on MO like glue forcing him to miss a shot. Gave it to McDyce for a wide open jumper. (missed) Almost turned it over driving to the hole but ripped it away from Varajeo and called time too quickly for him to react. Then as a reward for saving the possession Curry used the timeout Iverson fought for and called to take him off the floor.
For that 5:50, with the ball, they were down 7. Iverson responded with 9 points on 4 of 5 shooting, two assists, two wide open looks for teammates, 1 drawn foul, got the lead, and was pulled from the game. They were down 3 when Curry pulled him. They lost the lead when Bynum threw the rock away and fouled Bron. In fact, the only scoring plays Bynum was involved in during the stretch was when he passed it to AI and got out of his way. Curry put the starters back in and they promptly let the lead balloon to 8 before losing by 6. Oh yea, he also took a slap-in-the-face sized stake and drove it through the most exposed heart in the league. (its on his sleeve) In 18 minutes AI outscored everyone except Rip's 13 with 11 points. 9 in that 6 minute stretch when they, you know, let him play.
It was Iverson's second game back after not playing for over a month, after he rushed back from his back injury to contribute. Whats inside the mind of Curry? Well, this was his thinking before Iverson came back.
"Maybe Allen comes in and plays a lot of time at Will Bynum's spot," Curry said.
Now legions of fans, writers and anyone else are saying Iverson's horrible attitude and selfishness is why the Pistons are not doing well. Then questioning his heart. Then saying its his fault. I'm sorry, but that is bullshit. Iverson blamed 'himself' for his frustration, 'himself' for his failure to compete, 'himself' for everything. Even when its blatently Curry's arrogance and or incompetence thats directly to blame.
Put Iverson on a stationary bike like PJ did with Rodman. Or put him in the back hitting jumpers to keep in rhythm. Just make it work. If the starters start having an off quarter you throw AI in to play at top speed with his heart on his sleeve, get the fans into it and see what might happen. Maybe the goal of the AI crew is to run Iverson at another team's bigs and tally up a few quick fouls.
The Pistons Can't Comprehend 'Crazy For A Championship' Like They Used To
Rodman is a great comparison. He wanted special treatment and the Bulls gave it. In return he gave them a 72 win season on the GOAT NBA team. Teams too caught up in cliches about attitude often forget that winning is the bottom line. Winning is 'always' the team concept and when you're playing at the highest for all the marbles its all any winning teams care about.
Rodman worked on Chicago because Jordan cared about nothing, absolutly nothing, besides winning. He was willing to give Rodman special status. I guarentee you Jordan would have cleaned his toilets if it meant the Worm was going to pull down 20 boards that night. Except thats not happenomg here because , faults that he may have, came to a team/coach with a few other bottom lines. Instead they're scapegoating him as "The Answer" to the question "why are you underachiveing."
But its actually not too late. If the team gets mentally together and approaches Iverson with a direct plan. If they say we need them to shut up our doubters. AI doubters and Pistons doubters. If they say Allen Iverson: you can be the difference between us wining and losing. We can come together then they could still make the season work if you're up for it. No doubt Iverson's treatments will be magical and his back will heal overnight. Its not likely though as egos are probably too big to admit a mistake but the Pistons just don't have enough to get past the first or second round. Possible but a crazy long shot.
Anythings better then just giving up in my books. It says silently that the Pistons are not trying to win this year and says it from the top down. Many can't recover from a move like this. The suns could never recover from the forced style change the Shaq trade brought and the knowledge the current players had that their management had given up on them. Didn't believe in them. Now Iverson has quit on the Pistons and I fear its the beginning of the end for one of the present era's best and unheralded teams.